On Wednesday 19th April 2023, the Irish Regions European Office (IREO), in conjunction with the three Regional Assemblies of Ireland and the Irish Delegation to the EU Committee of the Regions held an EU funding conference "Connecting, Communicating and Collaborating – Irish Regions Cooperating across the EU: How local authorities can engage in European Programmes".  
This one-day national conference was attended by over 130 delegates and it aimed to communicate the opportunities for local government to participate in EU funding, particularly in the European Territorial Cooperation programmes, the Horizon Europe Missions and the LIFE programme.
Keynote speaker, Paschal Donohoe, Minister for Public Expenditure, National Development Programme and Reform noted that "INTERREG and other EU programmes play an important role in supporting the process of creating links, exchanging views, understanding differences, working together, and promoting and maintaining peace".
Cllr Michael Murphy, Member of Tipperary County Council and Head of the Irish Delegation to the Committee of the Regions called on Government to support a strategy to enhance the engagement of local councils in EU funding, by enhancing the support for the Irish Regions European Office in Brussels and funding an EU officer in each local authority in Ireland.
The conference featured nine different EU funding programmes and concurrent information sessions were held during the afternoon. These sessions informed and guided potential participants through the application process for the Northern Periphery and Artic Programme, the North West Europe Programme, the Atlantic Area programme, the URBACT, the ESPON and the INTERREG Europe programmes.  One to one sessions were also held on several of the Horizon Europe Missions and the LIFE programme for protecting the environment and combatting climate change.
One of the highlights of the day was the launch of the IREO and Regional Assemblies interactive map which provides details of all ETC projects for the 2014 – 2020 period and further details of this map can be found on the Regional Development Monitor website: https://rdm.geohive.ie/pages/our-regions-economy.
Presentations
Photo Gallery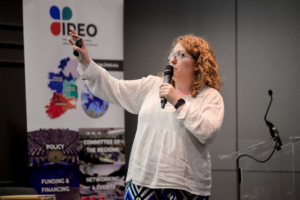 https://www.ireo.eu/wp-content/uploads/EU-Conference-Athlone-1520.jpg
1365
2048
ireo-admin-004
https://www.ireo.eu/wp-content/themes/master/images/ireo-logo-v1-rev.png
ireo-admin-004
2023-05-02 15:18:28
2023-05-02 15:18:28
EU Funding Conference