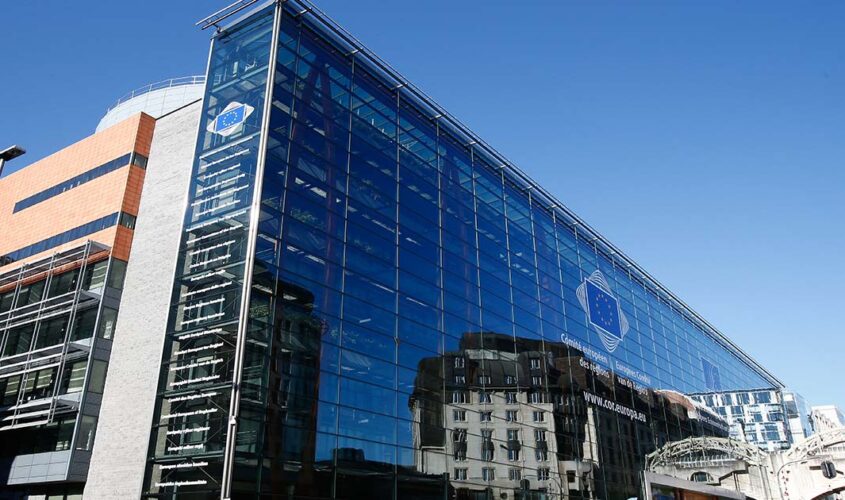 Round up of 149th CoR Plenary
The Committee of the Regions (CoR) held a hybrid meeting for the second plenary of 2022 on the 27th-28th April 2022. It was a packed agenda with a number of contributions from Irish CoR members, as well two opinions adopted by Irish members.
The session opened with debates on the war in Ukraine. The debate featured contributions from Ukrainian regional and local leaders. During the debate the CoR called for "robust sanctions against Russia", while also demanding the "immediate release of Ukrainian mayors and civil servants kidnapped by Russian occupation forces". The CoR also committed to offering the expertise of the EU's regions and cities to help Ukraine's local and regional authorities in reconstruction efforts.
Directly following this, Cllr Michael Murphy presented his opinion "Strengthening the EU-UK relationship at sub-national level and remedying the territorial impact of the UK's withdrawal from the EU" for adoption. The opinion saw wide support across the CoR, with guest Maroš Šefčovič, Vice-President of the European Commission, also welcoming the opinion as well as the ambition of the CoR and its members to cooperating with the UK at the local and regional level.
Cllr. Kieran McCarthy's opinion "New European Bauhaus – Beautiful, Sustainable, Together" followed. The opinion was once again widely supported by members. The New European Bauhaus initiative seeks to connect the European Green Deal to our daily lives, looking to harness the creative potential of regions and cities. However, Cllr McCarthy's opinion sets out that this shall only be possible with strong local and regional engagement. He therefore urged the European Commission to put cities and regions at the heart of the initiative and ensure that they receive the requisite technical assistance and funding.
Elsewhere, Cllr Una Power delivered a considered contribution to the plenary debate on the opinion "Towards a socially fair implementation of the Green Deal". During her contribution Cllr Power noted that "by lifting up those most at risk we protect those most vulnerable communities".
The second day of plenary saw a number of debates including a new strategy for universities, amending the renewable energy directive, and a discussion on how cities and regions can help accelerate the energy transition.
Finally, the members debated and voted on the preliminary draft estimates of the CoR expenditure and revenue for 2023.
The next plenary session is due to take place in June 2022.
https://www.ireo.eu/wp-content/uploads/ireo-ft-1500x630-cor-building2.jpg
630
1500
ireo-admin-004
https://www.ireo.eu/wp-content/themes/master/images/ireo-logo-v1-rev.png
ireo-admin-004
2022-05-03 13:41:24
2022-05-03 13:44:47
Round up of 149th CoR Plenary