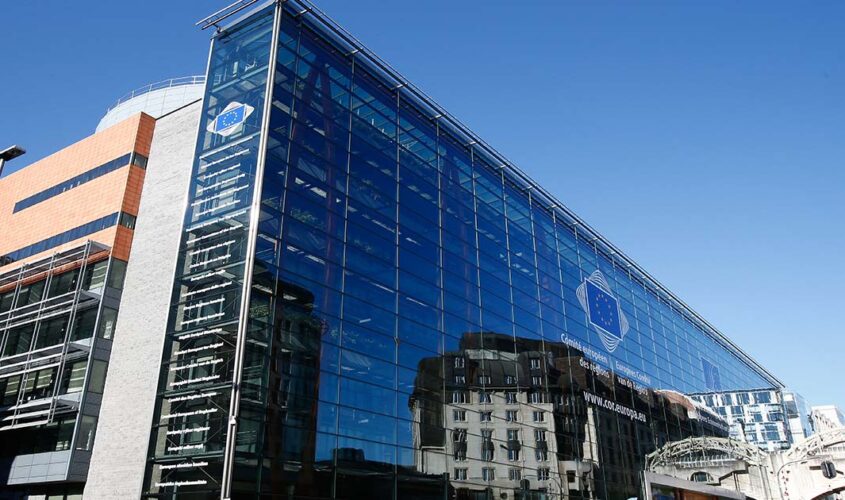 Round up of 150th CoR Plenary
The Committee of the Regions (CoR) held its first post-covid fully in-person meeting on the 29th and 30th June 2022. The meeting marked the half way point in the current mandate for the CoR and saw the election of Portugal's Vasco Alves Cordeiro as President following the end of President Apostolos Tzitzikostas' two and half year term in office.
The mandate also saw Irish delegation members being elected to new roles with Cllr. Kate Feeney being elected as Third Vice President of Renew Europe's CoR delegation and Cllr. Kieran McCarthy as Vice President of European Alliance group.
The session itself saw a number of important debates on proposed opinions, with strong Irish contributions throughout. Topics covered include: The EU Enlargement Package 2021, Revision of the Energy Performance of Buildings Directive (EPBD) and the implementation of green budgets at local and regional levels.
Given Russia's unprovoked and unprecedented attack on Ukraine the EU Enlargement Package debate saw several impassioned contributions from the floor. Members spoke of EU values and the need to support Ukraine as they fight to defend principles of democracy. During his contribution, Cllr. Kieran McCarthy noted that enlargement is "the strongest possible endorsement of the values we hold dear".
The second day of plenary opened with the debate on the Revision of the Energy Performance of Buildings Directive (EPBD). Following a contribution from rapporteur André Viola, Irish MEP Ciaran Cuffe outlined the importance of the EPBD in the context of a cost of living and energy crisis.
The plenary session was drawn to a close with a series of debates on topics including: Priorities on the forthcoming Czech Presidency of the Council of the European Union, the launch of the Automotive Regions Alliance and the launch of the European Alliance of Cities and Regions for the Reconstruction of Ukraine.
The next plenary session is set to take place in October 2022.
https://www.ireo.eu/wp-content/uploads/ireo-ft-1500x630-cor-building2.jpg
630
1500
ireo-admin-004
https://www.ireo.eu/wp-content/themes/master/images/ireo-logo-v1-rev.png
ireo-admin-004
2022-07-13 15:12:28
2022-07-13 15:12:28
Round up of 150th CoR Plenary